About Lesley
Lesley was born in Cairns, but spent her childhood in Mossman, North Queensland. As a child, she was always drawing, mostly Walt Disney Characters, then moved on to portraits.
Pictured below are the only surviving drawings from her childhood.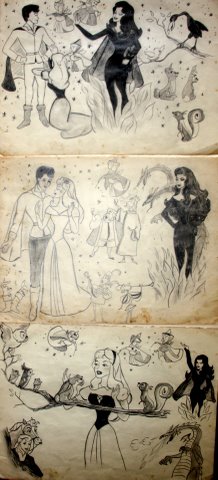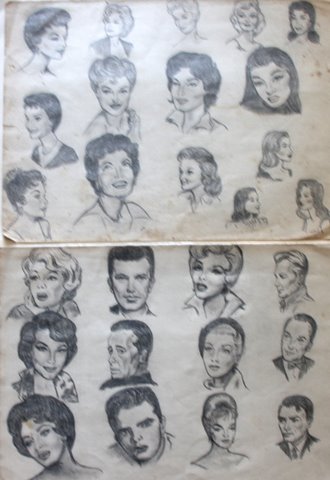 At age 12, her family moved to Brisbane, and Lesley continued to draw into her teenage years, then put her art aside, and went to work as a clerk, for the next 15 years.
When she married, she took up painting, first as a hobby, but subsequently wanted to learn more, and went to Art College at what was then known as Kelvin Grove College of Advanced Education.
As a student there, she was taught by well known Artists, William Robinson, Ian Smith, and Joe Furlonger. After gaining an Associate Diploma in Fine Art, she then went to Queensland College of Art, where she studied for 2 years, then deferred to go to Cairns.
During her time at Q.C.A., she won the Redland Yurara Art Award, and was a finalist in National Art Competitions _Portia Geach Portrait Award; ACTA Maritime Art Award; Alice Bale Portrait Award.

Moving to Cairns with her husband, Lesley continued her art practice, and won many local awards, exhibited at Cairns Regional Gallery, Cairns Civic Centre, and various Commercial Galleries.
She also taught drawing and painting for Cairns T.A.F.E, and was elected as Visual Art Delegate to R.A.D.F. Cairns.
After 10 years in Cairns, she returned to Brisbane to finish a B.A. In Fine Art at Queensland University of Technology, Kelvin Grove.

At that time, additional tuition, especially in portraiture, was from artist, Pir Tareen, who had won a scholarship from his home country of Pakistan to study for 7 years at the Rome Academy, before coming to live in Australia.

At the same time, Lesley was successful in obtaining a grant from Arts Queensland to study for one week at the Adelaide School of Arts with well known Portrait Painter, Robert Hannaford.
Lesley currently lives on Bribie Island, north of Brisbane, and continues her arts practice.
Over the years, Lesley has won a multitude of prizes, and has been a finalist many times in numerous National Art Competitions.
Lesley is represented in many Regional Art Gallery collections, as well as Council, Corporate and Private collections in Australia and overseas.